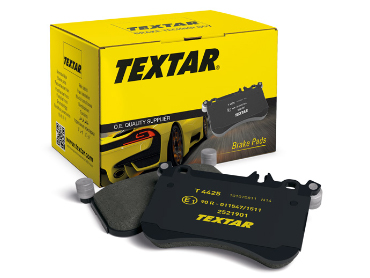 QUALITY. FOR EVERY REQUIREMENT.
More than 1,600 disc brake pads, over 1,650 brake discs, 425 brake shoes and 300 kits, as well as 200 brake drums, are proof that Textar offers one of the largest product portfolios for current motor vehicles. In the uncompromising pursuit of quality, long service life and high braking comfort, our specialists have developed more than 60 different dampening shims. Then there's epad, a new generation of friction that ensures optimum driving comfort and sparkling clean rims due to its special material mix. Also included in the box: all accessories required for installation. Textar's brake discs also reflect the quality standards of a market leader. Superior casting and complete surface coating, ensure high performance, optimum safety and a long service life. Brake shoes and brake shoe kits are available for a wide range of vehicles. Brake shoe kits offer enormous advantages: with all the components needed for installation in one kit, fitting is quicker and easier. The Textar product range also includes wear indicators, accessories, brake fluid, brake cleaner and lubricant, as well as hydraulics components* and brake tools*. (* available depending on the region.)
BRAKING WITHOUT COMPROMISE.
Utilising cutting-edge brake technology, Textar brakes are precision engineered to offer maximum safety, performance and comfort. This uncompromising approach has been the very ethos of Textar for more than 100 years. And it's the reason why Textar remains a trusted partner to the world's leading vehicle manufacturers today.